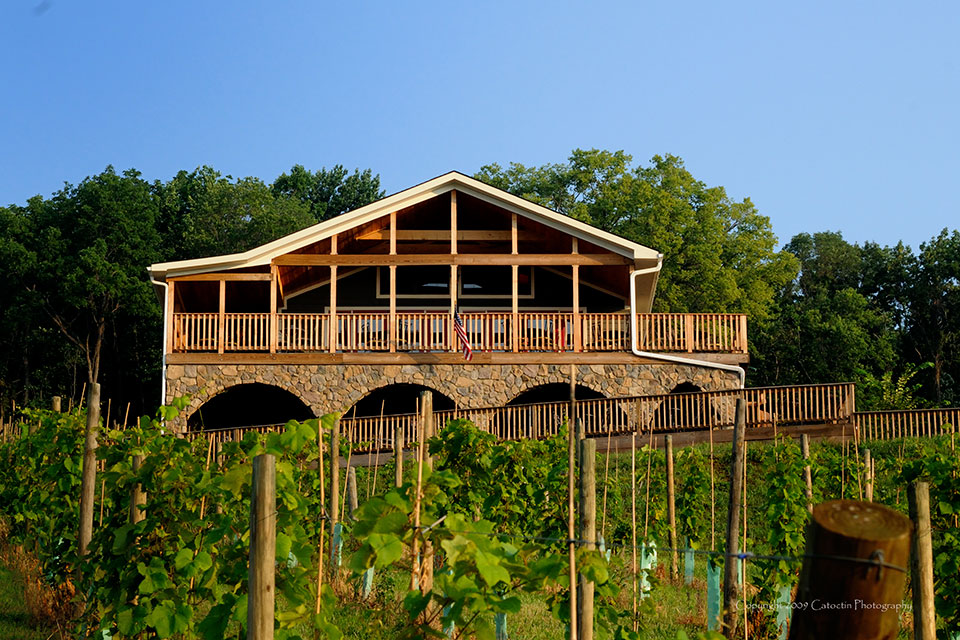 30 Aug

Bluemont Vineyard Tour
Bluemont Vineyard Tour
Farming runs deep in the Zurschmeide family, instilled in us by our patriarch, Bob Zurschmeide who grew up farming in Indiana and still says the money he saved to put himself through collect was covered in peach fuzz. He is the inspiration that makes us unique among Virginia Wineries.
The family moved to Loudoun County in the early 1970s and started a small homestead farm in Lincoln, VA and leased up to 400 acres across the county to grow sweet corn, mums, pumpkins and vegetables for the original family Farm Market, Fruit of the Vine, in Leesburg, VA.
As the family and Loudoun County grew, moving equipment in traffic created a huge challenge so we purchased the fallow farm in Bluemont, VA in 1993 that has become Great Country Farms which now supplies fruit to many Virginia Wineries. As we nurtured the soil back into production, farmers Mark and Bruce Zurschmeide often gazed at the mountain above us envisioning grapes and orchards. The opportunity to realize this dream came true when we were able to purchase the 100 acres that is now home to Bluemont Vineyard.
Bruce and Mark were confident in their ability to grow fruit to make a fine Virginia wine, and found the skill & passion to learn the wine-making craft by partnering with life-long friends, Bob, Loree and Kevin Rupy. Bluemont Vineyard was established in 2007 when the first grape vines came into full production. We now grow over 7 varietals of grapes including Viognier, Norton and Cab Franc and are on the leading edge of bringing Petit Manseng and Albarino to Virginia Wine Lovers visiting the growing number of wineries in the area.
As a small-run Virginia winery, an average of 6500 carefully crafted cases of wine are produced each year. We invite you to join us in the love of this land we steward and to discover a broad spectrum of wines produced from its terroir guided by the skill, enthusiasm and artistry of the team creating each unique vintage.